Update: mandatory faculty search committee training replaced by university strategic hiring initiative for faculty talent (SHIFT)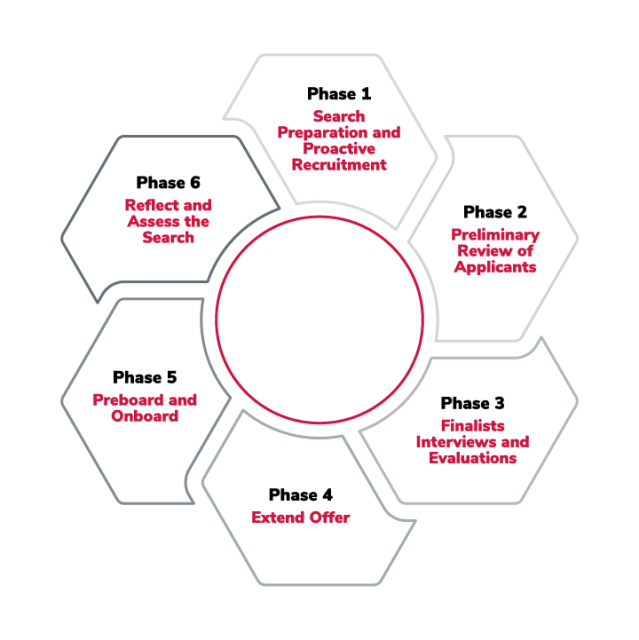 In early September 2023 Provost Melissa Gilliam announced Ohio State University's new faculty hiring framework and introduced a new website containing extensive resources and an outline of a streamlined recruitment process divided into 6 phases. This new framework, dubbed The Strategic Hiring Initiative for Faculty Talent (SHIFT) replaces all existing internal processes (i.e., training workshops) and applies to all faculty searches across the enterprise. Below are a few FAQ's to help you understand how this affects members of the CFAES community. Additional information can be found on the SHIFT website. All search committee members should explore the SHIFT website. Please note, currently you must have valid OSU credentials to access the website. A solution is in the works for external partners. For more information about SHIFT, or to provide feedback, contact SHIFT@osu.edu.
FAQ's 
Please visit the SHIFT website for additional FAQ's.
What is SHIFT?
The Strategic Hiring Initiative for Faculty Talent (SHIFT) is a unified framework for colleges and units to identify, recruit and onboard faculty at The Ohio State University. SHIFT is made up of six phases with multiple steps defined within each phase. These individual steps are composed of actions, training, templates and resources based on effective practices that have already been adopted by many colleges and are compliant with employment practices given our role and responsibilities as a federal contractor. 
This framework is intended to give faculty serving on search committees and staff providing support services the tools and guidance needed to attract excellent and diverse applicant pools, conduct fair and equitable evaluations, and successfully hire and properly onboard new faculty members who will continue our tradition of academic excellence.  
Why is SHIFT being implemented?
Establishing a new and centrally coordinated faculty recruitment and hiring model assists the university with meeting its EEO and affirmative action obligations in addition to providing support and resources, creating ease and efficiency for each of the academic units. The framework also removes much of the administrative burden from search committee members, which provides them more time for efforts focused on achieving our goals regarding academic excellence. 
Do I need to complete a mandatory training session to serve on a faculty search committee?
Yes. Previously, all members of CFAES faculty search committees were required to attend the 90-minute internal workshop called Inclusive and Equitable Hiring Practices every two years. The SHIFT framework has replaced that workshop. Effective immediately, all members of a department seeking to review candidate files must complete the Affirmative Action and Equal Employment Opportunity Recruitment and Selection Basics training on BuckeyeLearn. Please visit this website for an overview of the training and how to access it.
What about staff search committees?
The University will be launching a comparable framework for staff hires. We will post information here when it becomes available.


If you have questions regarding this change as it applies to the CFAES community, please contact Dr. Kathy Lechman, Assistant Dean and Director for Diversity, Equity, and Inclusion at lechman.1@osu.edu.